Local Community Service Grants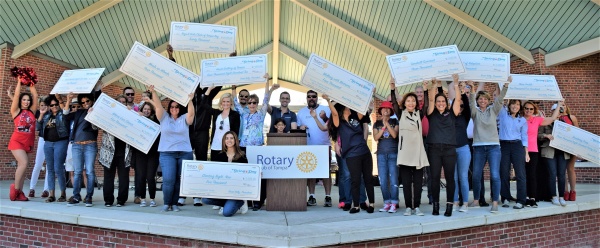 In In addition to the ongoing partnerships we share with our long time community partners, the Rotary Club of Tampa also offers annual grants to local non-profit organizations. Each summer, applications are available for programs that serve children and families. This club year, our club awarded grants totaling nearly $80,000 to 17 worthy local causes.
It is an honor to support our community in this way.
Meet our 2022-2023 Partners!
Academy Prep of Tampa
Interactive whiteboards for English classrooms
Big Brothers Big Sisters of Tampa
Laptops for Tampa office staff
Boys and Girls Clubs of Tampa Bay
Tables & chairs for Belmont Heights location
Bullard Family Foundation
Back to School Bash sponsorship
Camaraderie Foundation
Military family resource fair & family day
Dawning Family Services
Furniture for emergency bridge housing
Girl Scouts of West Central Florida
New troop leader curriculum tools dropbox
Jackson in Action 83 Foundation
Military moms baby shower
Meals on Wheels of Tampa
Produce on Wheels for homebound seniors
Metropolitan Ministries
Developmental toys and books for ParentChild+
Outreach Free Clinic
Exam supplies & labs for Well Women Clinic
Peter J. Mulry Foundation
"Stars of the Future" Literacy and Mentoring
Quest Inc. / Life Concepts
Serenity garden outdoor classroom
Sing Out and Read
The Family Literacy Project
Sounding Joy
Hearing aids for children in need
Starting Right Now
Housing & hygiene supplies for new residents
Tampa Hope / Catholic Charities
Warehouse repair & optimization

Grant awards range from $1,000 - $5,000 and considered based on funding availability, qualifications of the organization, and need/outcome for the community. Preference will be given to organizations who did not receive funding in the last grant cycle from The Rotary Club of Tampa.

To be considered, an organization must meet the following criteria:
• Organization must serve Hillsborough County Florida
• Organization is an Internal Revenue Code 501(c)(3) in good standing

Projects that meet the following criteria are the most desired:
• Projects that leverage dollars and/or people power
• Creative projects that have a positive and measurable impact on the community
• Addresses a specific identified and prioritized need in the community
• Shows innovation and collaboration
• Opportunity for partnership with the Rotary Club of Tampa and its members via volunteer opportunities

APPLICATION AND ALL SUPPORTING DOCUMENTS
WERE DUE BY AUGUST 26, 2022.
BOOKMARK THIS PAGE AND APPLY FOR 2023 NEXT SUMMER
We look forward to meeting you!